Seis adolescentes acusados de intento de robo en noreste de Charlotte
Fuente:Hola News
Charlotte NC. – Seis adolescentes están acusados de intentar robar a los residentes en los apartamentos Maple Run en el noreste de Charlotte el mes pasado.
Los jóvenes llevaban máscaras y tenían lo que se creía que eran armas de fuego y planeaban asaltar a dos hispanos, según la policía.
Multiple suspects arrested by the North Tryon Division.

19-year-old Vet Ksor, 16-year-old Oscar Rebollar-Velasquez, 16-year-old Andy Giron, 17-year-old Erixon Garcia, 17-year-old Elvis Ortiz, and a 15-year old male were arrested for their involvement in this case.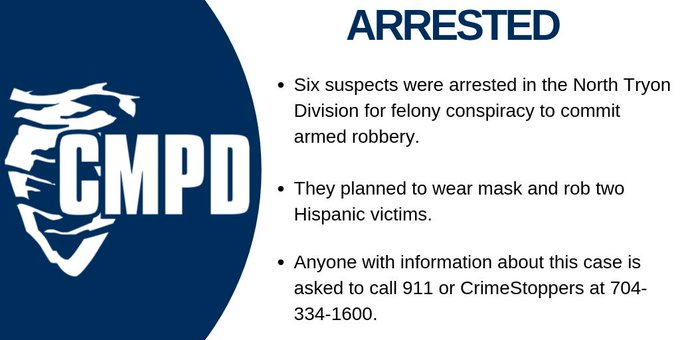 187:30 PM – Oct 7, 2019Twitter Ads info and privacySee CMPD News's other Tweets
Los adolescentes planeaban robar a las víctimas el 28 de septiembre aproximadamente a las 10:30 p.m., pero las potenciales víctimas llamaron a la policía, que respondieron rápidamente.
Dos de los adolescentes se detuvieron cuando llegaron los agentes y los otros cuatro huyeron, aunque los seis finalmente fueron detenidos, según informes.
Los detectives acusaron a Vet Ksor, de 19 años, Oscar Rebollar-Velasquez, de 16, Andy Giron, de 16, Erixon García, de 17, Elvis Ortiz, de 17 y un adolescente de 15 años por su participación en este caso.
El menor de 15 años fue acusado de conspiración grave para cometer un robo a mano armada y fue llevado al Centro de Detención Juvenil Regional de Cabarrus.